~Virtual Newspaper for an Aquatic World~
U.S. Congress in 2013: House Transportation and Infrastructure Committee
Our series previewing the U.S. Congress in 2013 continues this week with an overview of the House Transportation and Infrastructure (or "T&I") Committee, and its likely activity this year that will be particularly relevant to Mississippi River Basin water issues. The preview (
available here
) has complete Committee member rosters, highlights new members and those from Mississippi River Basin states, and includes links to Congressional Internet home pages for the Committee's 21 Mississippi River Basin members. Important from a Mississippi River Basin perspective, the T&I Committee has jurisdiction over Federal management of emergencies and natural disasters, flood control, improvement of rivers, harbors and inland waterways (including public works for the benefit of navigation, bridges and dams), and the Coast Guard. Like its complimentary Senate Environment and Public Works Committee, the House T&I Committee will have as its likely top priority consideration of the Water Resources Development Act ("WRDA").
To view earlier coverage of the 113th Congress' Senate and House committees, also see:
Notable @UpperMiss Twitter Postings for the Week
Water Quality -
Water Resource Management (Floodplains, Dams, Navigation, Wetlands, Flooding, Supplies, etc.) -
Drought-
Drought Mitigation Center Drought
Monitor Map-January 22
(click to enlarge)
Farm Bill-
Agriculture -
In the Cities -
Forestry -
Small trees left behind following logging, violent storms and epidemics help stream and lake water quality http://nyti.ms/XvNq7l
Biodiversity, Wildlife and Invasives -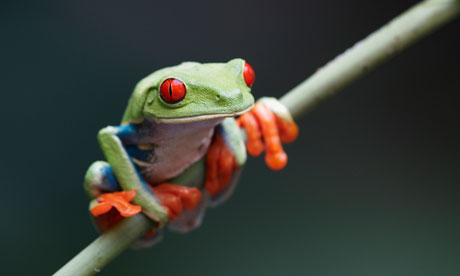 A red-eyed treefrog (Agalychnis callidryas)
Photograph: Peter Lilja/Getty Images
Gulf Coastal Region-
Scientists gather for comprehensive review of the short- and long-term effects of BP Deepwater Horizon accident http://bit.ly/XwBcet
Internet-based app may help track cultural impact of coastal losses in Louisiana http://bit.ly/XwBLoQ
Resource Extraction -
Federal Budget -
Upcoming Federal Budget Deadlines (Washington Post)
(click to enlarge)
Here are all of the budget deadlines the Federal government is facing over the next three months http://wapo.st/Wwu2rY
Senate will pass a 2014 budget http://politi.co/XvSQ2e House budget will contain deeper spending cuts than 2013 version http://bit.ly/XvSl8a
U.S. House approves No Budget, No Pay Act in a 285-144 vote, skirting debt ceiling limit and pressuring Senate to produce a fiscal year 2014 budget http://bit.ly/VlexXO
Events - Information on all past and future events listed here can be viewed in the on-line calendar on
this Blog page
and
here as a stand-alone calendar
e-Newsletters, Publications and Journals -
Weekly Newsletter from U.S. Environmental Protection Agency's Office of Water: "Water Headlines" http://bit.ly/VwRarA
The Horinko Group Newsletter: January 2013 "Sustainabulletin" http://bit.ly/Xwuch6
Minnesota Pollution Control Agency's January 2013 "River Connections" e-newsletter http://bit.ly/10U6vrm
Other news-
Political Scene -
Last Word
-
"
Everything changes everything.
" - Former Baltimore Orioles manager and Hall of Famer Earl Weaver, who died on January 18 at the age of 82.