~Most of the Water News - None of the Spin~
French Creek
This Week and Next
It was a surprisingly busy week on the River Basin-related news front, and you can find a sizable portion of that news outlined below. The week saw a premature winter freeze bring an early end to the Upper Mississippi River's navigation season, and the U.S. House pass bills (over a Presidential veto threat) that would restrict some Environmental Protection Agency activities. Here is our one-paragraph summary of "What We Learned This Week" ("
Resistance is Futile
"), in case you find the volume of news below particularly daunting.
Next week Congress will be recessed for the Thanksgiving holiday, and so will your FNB ("Friendly Neighborhood Blogger), who is traveling north to Pennsylvania and French Creek - the practically pristine headwaters of the Mississippi River watershed. The
Mississippi River Basin Water Resource Weekly News
editorial team promises to return in early December, as does Congress - primarily to work on a way to keep the government funded and running beyond December 11.
Noteworthy @UpperMiss Twitter Postings for the Week
Water Quality -
Water Resource Management (Floodplains, Dams, Navigation, Wetlands, Flooding, Supplies, etc.) -
Jordan Aquifer (Source: USGS)
Agriculture -
Climate and Weather -
US drought update: Bitter cold along with some snow over the central U.S. afforded little, if any, drought relief http://ow.ly/wmTdv
GAO: Climate change could substantially increase losses in taxpayer-backed flood and crop insurance programs in coming decades http://ow.ly/EEH32 (story: http://ow.ly/EEH6g)
With a fifth record hot month on the books, NOAA says 2014 is likely to be the Earth's hottest year despite US cold http://yhoo.it/1t9ysEt
USDA grant used to help create carbon credit market program; could boost Prairie Pothole grassland conservation http://ow.ly/Etphe and http://ow.ly/EwZkx
CO2 emissions must be zero by 2070 to prevent climate disaster, UN says, and 'negative emissions' are needed globally http://ow.ly/EAMZJ
Ethereal beauty: A year in the life of the Earth's carbon dioxide (courtesy NASA)
Biodiversity, Wildlife and Invasives -
Landscape Conservation Cooperatives
(click to enlarge)
In the Cities -
2015 River of the Year Nominees
In the States-
Three Mississippi River Basin streams in the running for "2015 River of the Year" in Pennsylvania http://ow.ly/Ex64w
Gulf Coastal Region-
Plaquemines Parish, La., officials vote down bid to drop 21 environmental damage lawsuits filed against oil and gas companies http://ow.ly/Eonit
National Fish and Wildlife Foundation announces next $100 million in awards for Gulf Coast restoration projects http://ow.ly/Etbgl
Resource Development -
Federal Budget -
Behind the scene Congressional negotiations continue over legislation to keep the government running, as omnibus bill discussions face problematic conservatives' policy rider demands http://ow.ly/EBRbf
Expectations for a long-term omnibus Federal spending package are dampened, as Republican leaders weigh their options http://ow.ly/Et30e
House Republicans search for spending compromise to avoid a government shutdown but restrict immigration changes http://ow.ly/EwSHd
Events -
Information on all past and future events listed here each week can be viewed in the on-line calendar, located above and to the right (and here as a stand-alone calendar)
e-Newsletters, Publications, Journals, Multimedia -
Other news-
Politics and People-
Your Moment of Zen
-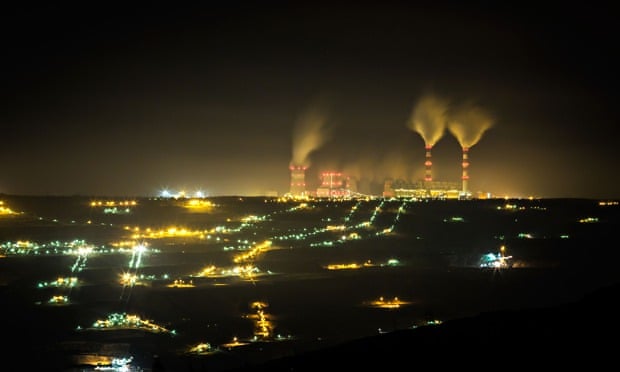 Biggest brown coal power plant of Europe at Belchatow coal power station, Poland. Poland and other eastern Europe countries have categorically rejected a target put forward by the world's top climate scientists to reduce carbon emissions to zero by 2100 to avoid dangerous global warming, leaked documents show.

Photograph: Artur Marciniec/Alamy.