~Most of the Water News - None of the Spin~
This Week and Next
The House will vote today (Friday) on a
one-page funding bill
to avert a shutdown of the Department of Homeland Security (including the Federal Emergency Management Administration), pushing off a possible shutdown for three weeks. Elsewhere this week, the House passed a bill requiring the EPA to develop a plan for managing the health risks related to cyanotoxins, there were calls for an environmental impact assessment concerning new rail infrastructure being built to handle increased Bakken oil train traffic in the Upper Mississippi Valley, the Army Corps of Engineers Rock Island District announced plans to revise its Mississippi River Master Plan, 55,000 gallons of ethanol were unaccounted for from a freight train spill along the Mississippi River, a court found that Nebraska recklessly gambled with water that wasn't legally Nebraska's, nearly 400 organizations told Congressional appropriators not to meddle with farm bill programs, and six men started paddling upstream on the Mississippi toward the Arctic Ocean. Links to these and more can be found below, or digested into a one-paragraph summary, "
What We Learned This Week - 'Let me count the ways.'
"
Next week the full House may consider
H.R. 1030
, the Secret Science Reform Act. and
H.R. 1029
, the EPA Science Advisory Board Reform Act, both of which aim to change the role science plays in EPA rule-making. The House passed similar bills in 2014. Next week will also see several River Basin-related Capitol Hill committee hearings, many of the fiscal variety. One notable exception will be a Thursday, House Agriculture Committee
hearing
"to review the definition of 'waters of the United States' proposed rule and its impact on rural America." You can read the
entire list of River-related Hill happenings here
.
Noteworthy @UpperMiss Twitter Postings for the Week
Water Quality -
EPA's proposed clean water rule resisted by some Arkansas counties, agricultural groups,

congressional members http://ow.ly/JwXx8
36,000 gallons of oil-water mixture recovered from containment trenches since last week's West Virginia oil train derailment http://ow.ly/JzPSE (photo, right)
Poll: Most Iowans support Des Moines Water Works water pollution lawsuit http://ow.ly/JIPfd
ORSANCO 2013 Toxic Release Inventory Analysis report: ninety-two percent of reported Ohio River releases were nitrate compounds http://ow.ly/JGG1E (Story: http://ow.ly/JGGkg)
EPA weighs in on Harpeth River, city of Franklin, Tennessee wastewater pollution federal court case http://ow.ly/JzTcy
Groups ask to intervene in Kentucky enforcement action, citing insufficient fines imposed against coal company for multiple water quality reporting violations http://ow.ly/JB4mg
Doing a little to curb Mississippi River fertilizer pollution could go long way to breathing life back into the Gulf http://ow.ly/JBb4u
H.R. 212-bill requiring U.S. EPA to develop a strategic plan for protecting drinking water from cyanotoxins-passes House 375-37 http://ow.ly/JD3O0
House Appropriations Chair Rogers (R-KY-5) criticizes Interior Department plan to protect waterways from coal mining http://ow.ly/JFTE3
Exploring New Ways of Measuring Water Quality Project Success http://ow.ly/JFUHf
Officials still dealing with aftermath of freight train derailment that spilled ethanol into Mississippi River (Iowa) http://ow.ly/JGifj
21-month prison sentence imposed for man who conspired to falsify coal industry water pollution tests at West Virginia mining operations http://ow.ly/JGjWa
Water Resource Management (Floodplains, Dams, Navigation, Wetlands, Flooding, Supplies, etc.) -
Mississippi River Lock and Dam 7
Agriculture -
Climate and Weather -
US drought update: Locally-heavy rain and snow eased Mississippi and Ohio Valley drought conditions; Central to Northern Plains, Upper Midwest remained dry; severely dry conditions in western Oklahoma http://ow.ly/JGxqP
NOAA Climate Prediction Center monthly drought outlook for March (will be published on Saturday afternoon) http://ow.ly/q3yAx
Biodiversity, Wildlife and Invasives -
In the States-
Minnesota Pollution Control Agency officials warn that state legislators' push to ease state

wild rice water pollution standards could lead federal oversight http://ow.ly/JDhyR
Iowa state bills would tighten regulations on manure fertilizer application

River Basin states in the news this week

http://ow.ly/Jp0Yc (link to Senate bill version: http://ow.ly/Jp0FG)
Kentucky State House panel approves first overhaul of Kentucky's oil and gas drilling regulations in a generation http://ow.ly/JDiHI (link to bill: http://ow.ly/JDiUP)
Kentucky Oil and Gas Conservation Commission disallows citizens' fracking questions at permit hearing http://ow.ly/JGn1F
Missouri "Right to Farm" constitutional amendment opponents ask Missouri Supreme Court to hear their challenge http://ow.ly/JE9Cf
North Dakota Senate votes to allow non-family farm corporations to own or lease agriculture land http://ow.ly/JzxAn (bill link: http://ow.ly/JzxWD)
North Dakota House approves legislation to regulate oil and saltwater gathering pipelines http://ow.ly/JB5MR (bill link: http://ow.ly/JB64S)
South Dakota Senate approves bill establishing nine river basin natural resource districts to oversee water, drainage management http://ow.ly/JzJzW (link to bill: http://ow.ly/JzKeR)
West Virginia Senate starts work on bill to scale back law spelling out safeguards to prevent storage tank spills http://ow.ly/JDfP3 (link to bill: http://ow.ly/JDg3P)
Indiana Senate defeats proposal that would have added "right to farm" protections to the state's constitution http://ow.ly/JGhbt (link to bill: http://ow.ly/JGhCj)
Pennsylvania Senate Committee approves bill to create Marcellus Shale health advisory panel http://ow.ly/JGZM7 (bill link: http://ow.ly/JGZTo)
In the Cities -
Gulf Coastal Region-
Forestry -
Forest Service temporarily halts controversial proposal to better gauge impacts of surface uses upon groundwater http://ow.ly/JH1FN
Resource Development -
Federal Budget -
House Energy and Commerce Committee subcommittees criticize U.S. EPA's fiscal year 2016 budget request for its focus on climate change http://ow.ly/JE8Cg (link to hearing archive: http://ow.ly/JE8vP)
House will vote today (Friday) to prevent Homeland Security shutdown tomorrow (includes FEMA funding) http://ow.ly/JIA1q
Events -
Information on all past and future events listed here each week can be viewed in the on-line calendar, located above and to the right (and here as a stand-alone calendar)
e-Newsletters, Publications, Journals, Multimedia -
Other news-
Politics and People-
Your Moment of Zen
-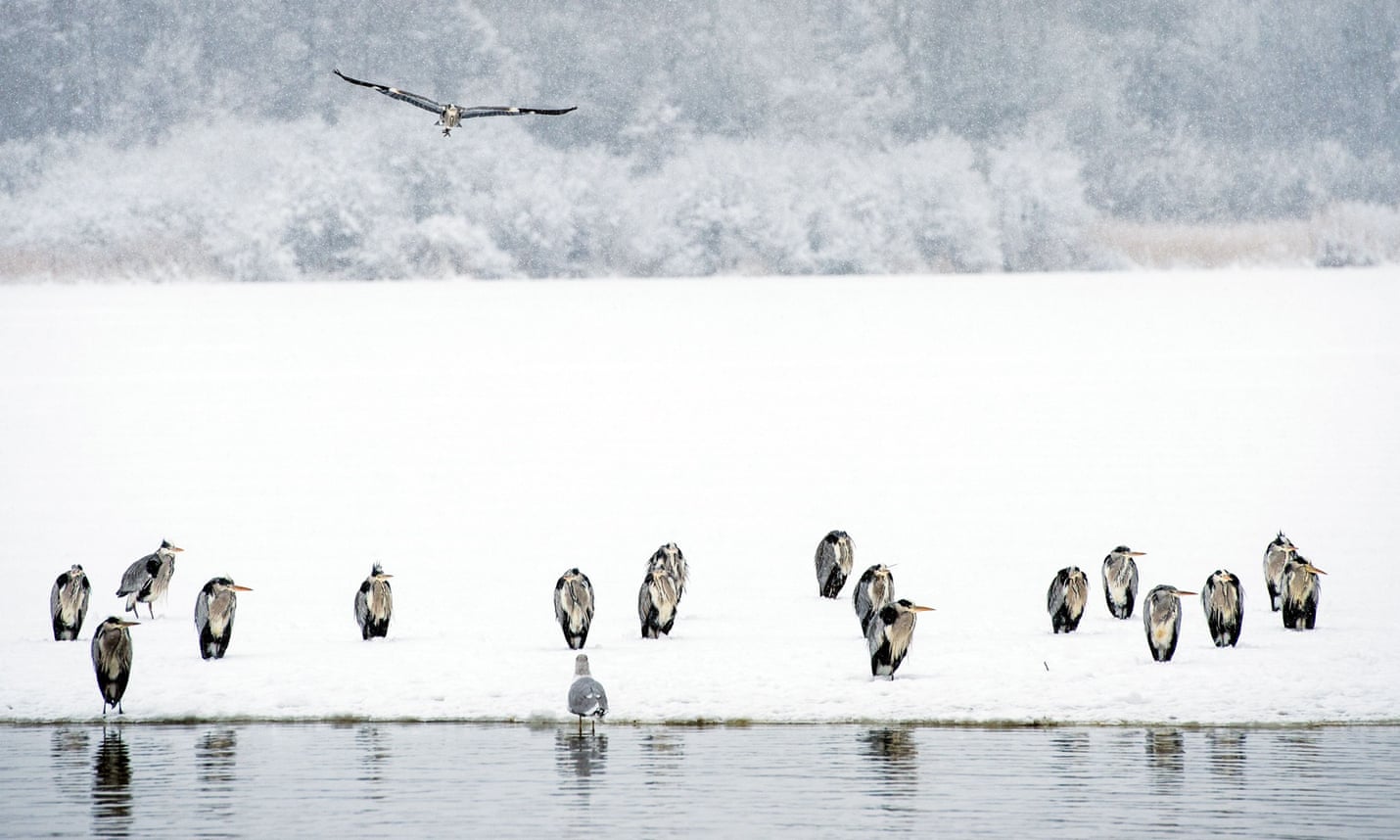 Photograph: Jonathan Nackstrand/AFP/Getty Images