~Virtual Newspaper for an Aquatic World~
This Week and the Next . . . and the Next
One week following the widely-reported announcement by scientists that they project a large Gulf of Mexico hypoxic zone (or "dead zone") this summer - a dead zone precipitated primarily by nitrogen in the form of nitrates entering the Gulf from the Mississippi River - officials some 2,500 miles or so upstream of the Gulf in Minnesota released a report describing where at least some of those nitrates are coming from (see links to the news coverage and official reports, below, under "Water Quality"). The
Minnesota Pollution Control Agency report
cited croplands as the primary contributor to the state's high and increasing surface water nitrate concentrations. The timing of the Minnesota report ironically also followed by a week the failure by the U.S. House to pass a comprehensive five-year farm bill (a bill that includes conservation provisions that would help mitigate nitrate loading from farmland into streams).
This begs the question, "what happens next with the farm bill?" No one really knows. All we can say with some certainty is that nothing officially will happen next week on Capitol Hill, since the House and Senate will be recessed for the week and its July Fourth holiday. House leaders, however, are expressing interest in bringing some form of the farm bill to that chamber's floor the following week (of July 8). There is much more coverage of the bill's failure and its uncertain fate below, under "Farm Bill."
Notable @UpperMiss Twitter Postings for the Week
Water Quality -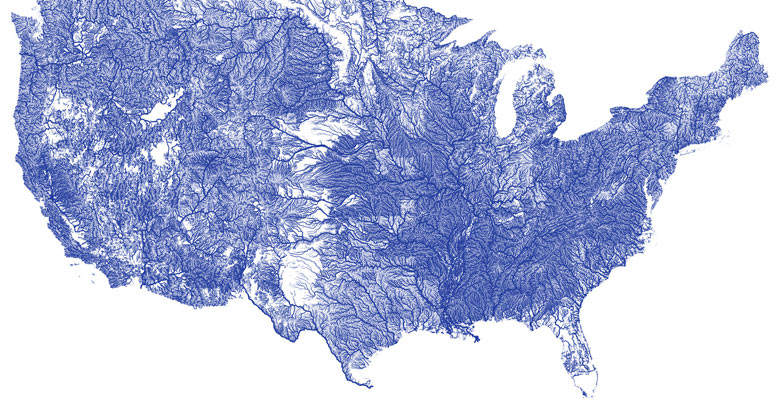 Rivers of the United States of America
by Nelson Minar - Click to Enlarge
What Happened?
What Happens Next?
June 25 Drought Monitor Map
(click to enlarge)
Climate and Weather -
here as a stand-alone calendar
)
Last Word
-
"
Unless someone like you cares a whole awful lot, nothing is going to get better. It's not.
" - The Onceler, in "
The Lorax
" by Dr. Seuss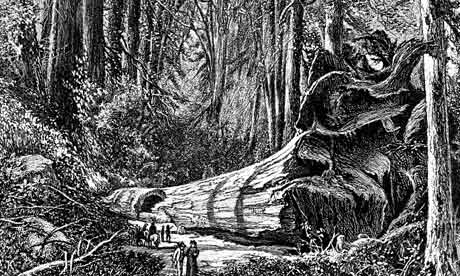 Tourist walking by "The Father of The Forest" in Calaveras
Grove, California c.1880s. Photograph: Alamy
160 years ago yesterday, on June 27, 1853, a 300 foot-tall, 1,244-year-old giant sequoia in Calaveras County, California was felled after three weeks of cutting by a group of gold-rush speculators. The event become the inspiration for the national park system (
see this Guardian article
about "How a giant tree's death sparked the conservation movement 160 years ago" for more on this interesting story).