~Virtual Newspaper for an Aquatic World~
Deserted U.S. Capitol Visitors Center
on October 1
Shut Down - "Out of the Frying Pan"
At midnight on October 1, the Federal government began a partial shutdown that has impacted government agency activity not only in Washington, DC, but across the country. We have compiled an overview of some of the government shutdown impacts for Federal agencies with a Mississippi River Basin water connection (Environmental Protection Agency, Fish and Wildlife Service, U.S. Geological Survey, National Oceanic and Atmospheric Administration, and Army Corps of Engineers). That summary can be
seen here
.
Debt Limit - "Into the Fire"
Even while "shut down," the federal government continues to spend money and creep toward an October 17 deadline when Congress will need to raise the nation's $16.7 trillion national debt limit. On September 25, Treasury Secretary Jack Lew
sent a letter to Congress
with updated forecasts of the U.S. Treasury's fiscal situation. According to his forecast, the Treasury will exhaust its borrowing capacity no later than October 17, at which time the Treasury Department will have exhausted its use of extraordinary measures to maintain a positive cash balance. In the face of this upcoming deadline, we've prepared a basic primer on the debt ceiling issue, which can be
read here
.
Farm Bill
Some movement on the farm bill occurred this week, despite the political gridlock and resulting shutdown. On Tuesday, Senate Majority Leader Harry Reid
formally requested a conference with the House
to resolve differences between the Senate and House versions of the farm bill, and he named five Republican and seven Democratic conferees, all of whom serve on the Senate Agriculture Committee. That Senate activity followed House passage on Saturday of a measure that combined its pared down farm bill it passed in July with a nutrition-only bill passed separately by the House on September 19. Before requesting the conference, the Senate first formally rejected the combined House version of the bill. Next, the House is expected to agree to form a conference committee, and to appoint conferees. Here is our
latest summary of farm bill news and resources
for more details.
Notable @UpperMiss Twitter Postings for the Week
Water Quality -
Water Resource Management (Floodplains, Dams, Navigation, Wetlands, Flooding, Supplies, etc.) -
Farm Bill-
Agriculture -
Climate and Weather -
Midwest drought status largely status quo last week, Plains

October 1 U.S. Drought Monitor Map
(click to enlarge)

improved somewhat, Louisiana water deficits lingered http://ow.ly/psXff
Latest update of U.S. Drought Monitor continues to show severe drought in parts of Illinois pic.twitter.com/g8sCzUtwnF
NOAA Climate Prediction Center drought outlook for October: improvements expected http://ow.ly/ovR2e
EPA releases report of climate change impacts on streamflow, water quality in 20 U.S. watersheds http://ow.ly/pkQMQ
ClimateChangeLIVE provides free tools for teaching climate concepts for the 2013-2014 school year http://ow.ly/pkR91
Even with floodwater rolling through Nebraska, drought persists http://ow.ly/pnFbd
With an unusual late-season hurricane brewing in the Gulf of Mexico, FEMA employees are being recalled from furlough http://ow.ly/puydR
Tropical Storm Karen's approach will stop Mississippi River barge traffic at its mouth http://ow.ly/puCw1
Biodiversity, Wildlife and Invasives -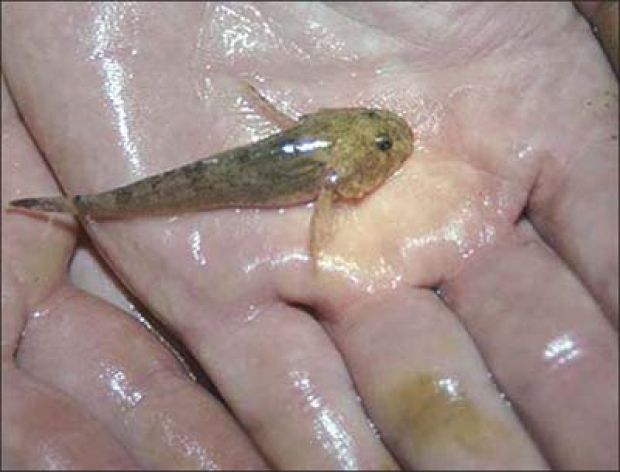 Grotto sculpin
In the Cities -
Louisville, KY 4000-acre park is one of largest new parks in country and a prime private-public partnership example http://ow.ly/pkTm7
In the States-
Illinois announces over $5 million in investments to 13 communities across state for green infrastructure projects http://ow.ly/pkU1c
Forestry-
Thousands of Western Pennsylvania forest acres fragmented by Marcellus shale and traditional gas well drilling http://ow.ly/pl1ba
Resource Extraction -
3rd U.S. Circuit Court of Appeals sides with oil organizations in Allegheny National Forest mineral rights case http://ow.ly/pq1jO
Kentucky´s karst geology and sinkhole terrain will challenge natural gas pipeline developers http://ow.ly/pq8eS
Ohio directive: shale gas drillers must report fracking chemicals to local governments, first responders, residents http://ow.ly/pq8YX
Federal Budget -
Events - Information on all past and future events listed here can be viewed in the on-line calendar (
here
as a stand-alone calendar)
e-Newsletters, Publications, Journals, Multimedia -
Other news-
People and Politics-
This Week's Time Magazine Cover
Last Word
-
"
The difference between fiction and reality? Fiction has to make sense
." - Tom Clancy, during a Larry King Live interview in 2000. The bestselling author of Patriot Games and Clear and Present Danger died Tuesday at the age of 66.