~Virtual Newspaper for an Aquatic World~
This Week and Next
Sunset in Louisville,
Kentucky
This week saw an eclectic mix of Mississippi River Basin stakeholders come together along the Ohio River in Louisville, Kentucky to discuss shared Mississippi River Basin goals, strategies and commitments at
America's Watershed Initiative Summit
. There was quite a bit of lively discourse, so look for some potentially-interesting outgrowth from that gathering in the months ahead, including a
Report Card
on the health of the Basin and its subwatersheds. Elsewhere, there was quite a bit of back and forth of the political and scientific variety last week concerning the Obama Administration's proposed rule seeking to clarify the jurisdiction of the Clean Water Act - lively discourse as well, though perhaps not as productive as that happening in Louisville. With the proposed rule comment period soon to close, we can expect next week to see more of the same. The halls of Congress will be quiet again next week, as its members continue to politic back home in hopes of returning to Washington in 2015. You can read our concise summary of all of this and more in "
What We Learned This Week - 'Nor any drop to drink'
" and can see all of the best bits we could otherwise gather, below.
Noteworthy @UpperMiss Twitter Postings for the Week
Water Quality -
"Waters of the U.S." Proposed Rule
Other Water Quality News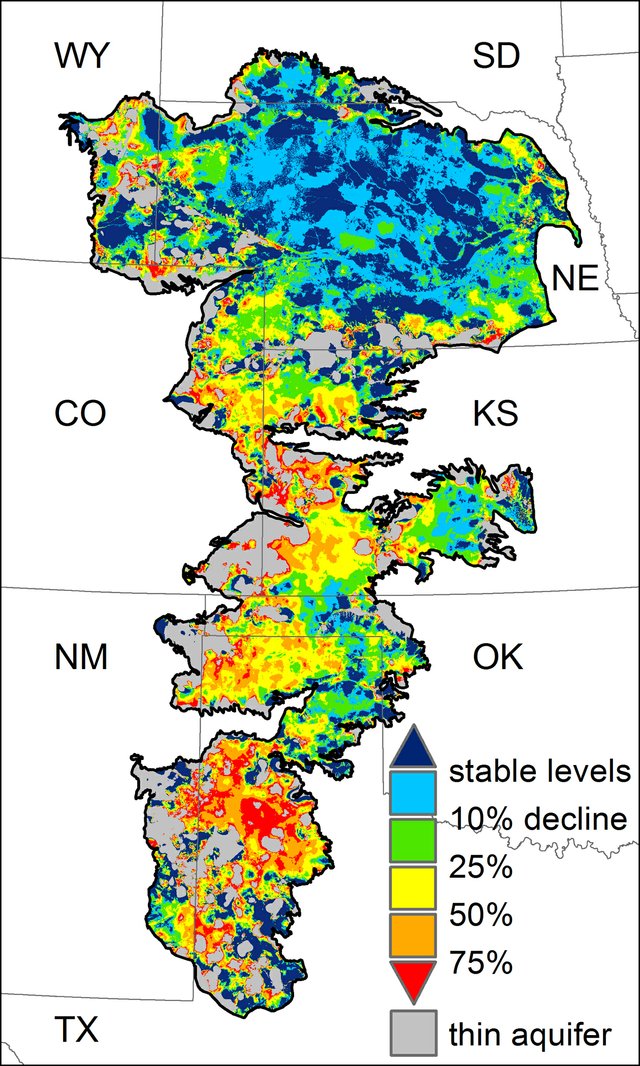 Rate of Ogallala Aquifer decline
(click to enlarge)
Water Resource Management (Floodplains, Dams, Navigation, Wetlands, Flooding, Supplies, etc.)
Agriculture -
Climate and Weather -
U.S. Drought Monitor-Midwest
for September 30 (click to enlarge)
Biodiversity, Wildlife and Invasives -
In the Cities -
New Orleans' Green Infrastructure Partnership designed to find better ways to use water, improve water quality, stop sewer system overflows http://ow.ly/C4aac (also see article, below)
New Orleans Sewerage and Water Board dedicating $500,000 a year for next five years to invest in green infrastructure http://ow.ly/C6ZWv
In the States-
Gulf Coastal Region-
Department of Homeland Security's inspector general report says Louisiana has been slow to implement disaster mitigation projects http://ow.ly/Cc39E
Resource Development -
Wisconsin's burgeoning frac sand mining industry is poised for more growth into up to two dozen additional counties ow.ly/BYyA3
Events - Events - Information on all past and future events listed here each week can be viewed in the on-line calendar, located above and to the right (and
here as a stand-alone calendar
)
e-Newsletters, Publications, Journals, Multimedia -
Other news-
Latest National Geographic "Greendex survey" - U.S. ranks last overall in environmental attitudes and habits, contrasting sharply with the attitude in large developing economies http://ow.ly/C40N7
From @RiverLifeUMN: New Stories, New Images for the Mississippi River http://ow.ly/C74a9
Politics and People-
Your Moment of Zen
-
A photograph from the European Space Agency shows an illustration of the supermassive black hole located in the middle of the very dense galaxy M60-UCD1, which lies about 50 million light years away. Photograph: ESA/AFP