~Virtual Newspaper for an Aquatic World~
Habemus Morbi Rutrum! ("We Have a Farm Bill!")
"Habemus Morbi Rutrum!" (
U.S. Capitol Building)
On February 4, the Senate passed a
compromise House-Senate Conference Committee farm bill
on a
68-32 roll call vote
. Forty-six Democrats, 20 Republicans and two independents joined together to vote for the Farm Bill conference report. The House had previously (on January 29) passed the bill, by a
251-166 margin
. The bill has been sent on to the President for his signature, ending three years of often contentious deliberation. The President is expected to sign the bill into law on Friday during an event at Michigan State University, alma mater of Senate Agriculture Chairwoman Debbie Stabenow (D-MI).
There were several notable votes in opposition to the bill from Senators representing Mississippi River Basin states. Both Oklahoma Sens. Tom Coburn (R) and Jim Inhofe (R) voted against the conference report, as did Sens. Charles Grassley (R-IA) and Pat Roberts (R-KS). Grassley, a longtime member of the Agriculture Committee, cited provisions passed by the Senate but then removed from the final bill that would have reduced the number of people associated with one farm who can collect farm subsidies. Roberts indicated in a news release that he "voted against final passage of the 2014 Farm Bill conference report because it goes backwards towards protectionist subsidy programs, instead of forward with innovative and responsible solutions for producers and the taxpayer."
Water Quality -
Water Resource Management (Floodplains, Dams, Navigation, Wetlands, Flooding, Supplies, etc.) -
Farm Bill-
Agriculture -
Climate and Weather -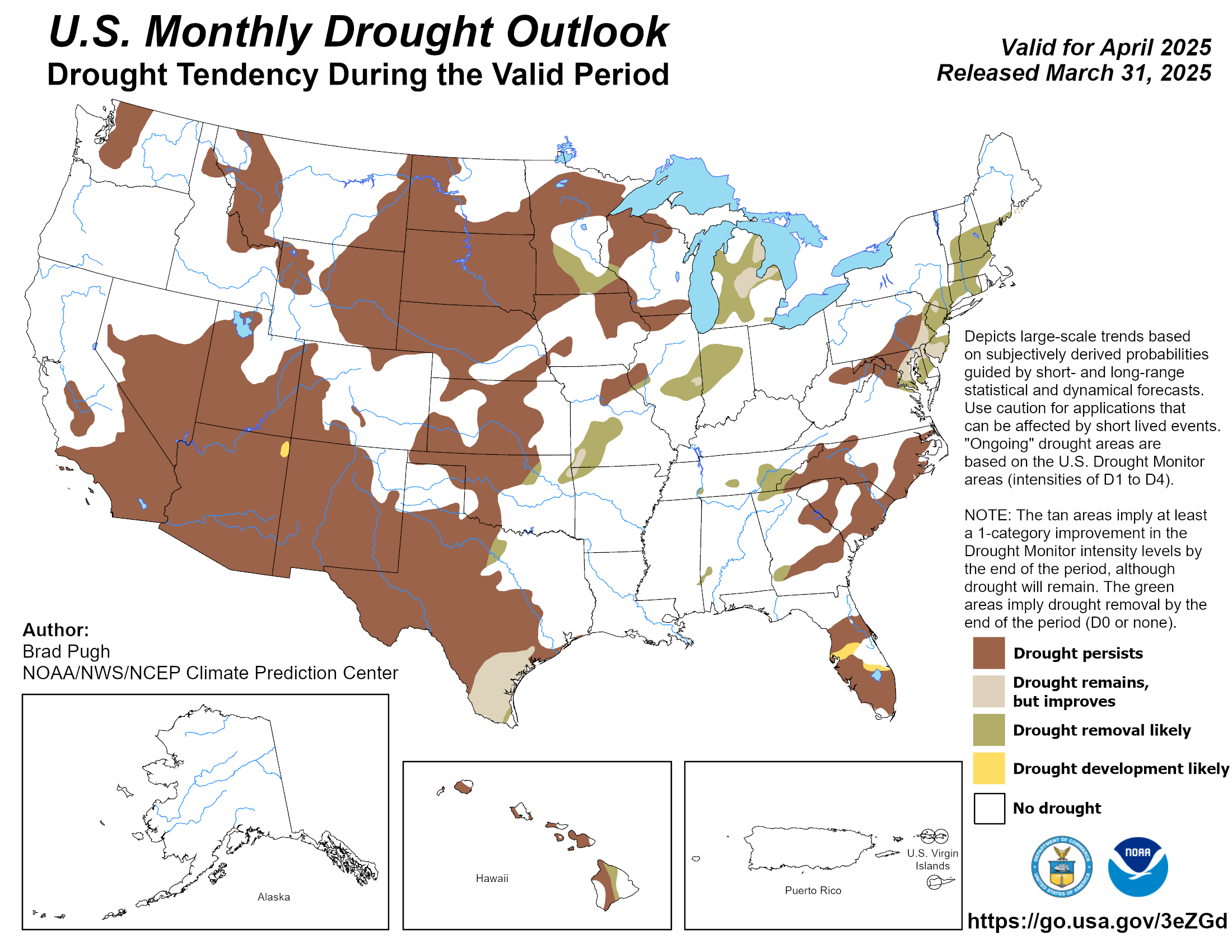 February drought forecast
(click to enlarge)
In the Cities -
Louisiana Coastal Region-
Federal Budget -
e-Newsletters, Publications, Journals, Multimedia -
Other news-
Politics and People-
while dismissing climate change "deniers."