~Virtual Newspaper for an Aquatic World~
Hello From New Orleans . . .
Downtown New Orleans
. . . and the 2014 Conference on Ecological and Ecosystem Restoration ("
CEER
2014"). The week-long conference has highlighted many Mississippi River Basin and Louisiana Gulf Coast studies and restoration efforts (there were 146 citations for the "Mississippi River," 21 for the "Louisiana coast," and 71 for the "Gulf of Mexico" in the
conference abstract compilation
). Tuesday's opening plenary session for the conference featured Louisiana coast- and River-centered remarks (
transcribed here
) by
R. King Milling
, CEER 2014 Honorary Chair, and Chair of Louisiana Governor's Advisory Commission on Coastal Protection, Restoration and Conservation.
Noteworthy @UpperMiss Twitter Postings for the Week
Water Quality -
USGS study finds significant levels of neonicotinoid pesticides in Midwestern streams http://ow.ly/zABOJ
House votes 267-161 to strip U.S. EPA's ability to require permits for growers who spray pesticides over water ow.ly/zNXXf
EPA says the GOP is making it "very difficult" for it to do its job of regulating carbon, small bodies of water http://j.mp/1pGzmpI
Water Resource Management (Floodplains, Dams, Navigation, Wetlands, Flooding, Supplies, etc.) -
Agriculture -
Climate and Weather -
Biodiversity, Wildlife and Invasives -
Science journal studies: Earth is in the midst of its sixth "mass extinction"

Threatened species hot-spot map (click to enlarge)

http://ow.ly/zACcr and http://ow.ly/zACfk
Federal, state agencies find no live Asian carp in Ohio River basin streams following last year's positive e-DNA evidence http://ow.ly/zEOdn
White House says it will veto http://j.mp/WM43Dh bill passed by House on Tuesday, saying it would roll back endangered species protection (bill here: http://ow.ly/zK6Fi -also see this article on the bill's passage: http://ow.ly/zKaMO)
Senate bill would remove lesser prairie chicken from Endangered Species Act list of threatened species until 2020 http://ow.ly/zMPAD
New Senate bill would require FWS to take into account the economic impact of proposed critical habitat designations http://ow.ly/zPpwv
Fish and Wildlife Service agrees to study the effects of five common pesticides on endangered species nationwide http://ow.ly/zK9QV
Helping pollinators survive: A landowner's guide to pollinator-friendly practices ow.ly/zOors
"Leaping out of the lakes: Invasive mussels spread across America" http://ow.ly/zMQsH
La Crosse, Wisconsin's "bug derecho" signals a cleaner Mississippi River environment http://ow.ly/zMR1e
In the Cities -
Highest average US wages, worst housing shortage: Williston, North Dakota, thanks to the

Springfield, Missouri

fracking oil boom http://ow.ly/zES51 (near the confluence of the Yellowstone River and the Missouri River)
Kansas City Groups to Receive $119,940 from EPA's Urban Waters Small Grants Program for Focus on Middle Blue River http://ow.ly/zMRRQ
Springfield Missouri's decorative storm drains and manhole covers highlight infrastructure, help satisfy MS4 permit requirements http://ow.ly/zMT6d
St. Joseph, Missouri focusing on building more green infrastructure within the city to manage stormwater http://ow.ly/zMTAg
After a dozen years on the state's Impaired waters list, Wirth Lake (Minneapolis Metro area) has finally been removed http://ow.ly/zN8gX
Gulf Coastal Region-
NOAA: Flooding frequency increasing along much of U.S. coast; rate of increase accelerating along Gulf of Mexico http://ow.ly/zFtiY
Gulf Coast Ecosystem Restoration Council progresses in finalizing processes for implementing large-scale restoration projects http://ow.ly/zHgfU
Forestry -
Real-time data provided by satellites could revolutionize forestry, agriculture and our understanding of land use change http://ow.ly/zExvg
Resource Development -
Tainted Legacy: Louisiana's Legislature has created obstacles to legacy oil and gas cleanups http://ow.ly/zN7IP
Minnesota crossed by 50 oil trains a week, each loaded with more than 1 million gallons of North Dakota crude oil http://ow.ly/zEx4v
WV Surface Mining Board rejects bid to halt mountaintop removal mining near Kanawha State Forest http://ow.ly/zERsd
Events -
Information on all past and future events listed here can be viewed in the on-line calendar (here as a stand-alone calendar)
e-Newsletters, Publications, Journals, Multimedia -
Other news-
Politics and People-
Small minority who fund American politics are much more politically polarized than vast majority of non-contributors http://ow.ly/zKoXV
New study finds lack of minority representation in environmental groups. http://ow.ly/zHZNR
Darth Vader is more popular than any potential 2016 US presidential candidate; Jar Jar Binks is more popular than Congress http://ow.ly/zEz68
Your Moment of Zen
-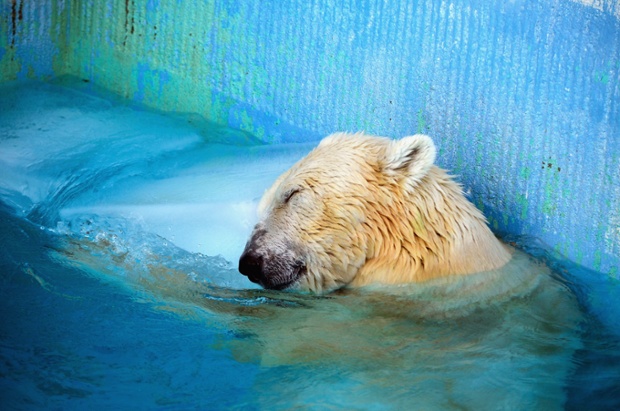 Polar bear 'Yuki' is given ice cubes to cool down as the summer heat continues at Tokuyama Zoo in Yamaguchi, Japan. Photograph: The Asahi Shimbun via Getty Images