~Virtual Newspaper for an Aquatic World~
"Lame duck" tango move
Last Week, This Week and the Remainder of the Year
Last week, in a nod to a look back to 1984 climate news,
we learned that "Ignorance is Strength,"
and that sometimes a political advert is really just a Jeep commercial in disguise.
Next week could be the last that Congress is in session before the November 4 mid-term elections. And
if some Congressional leaders are to be believed
, even afterward, during the lame duck session, not much is going to happen before a new Congress is seated in January. After Congress returns in mid-November, there will really only be one key item for its members to attend to in 2014: averting a federal government shutdown after December 11: the expiration date of the proposed stop-gap Continuing Resolution that the House
released on Tuesday
. Following a last-minute White House request to include authority to take action against the Islamic State in the bill, Congressional work on the government funding measure was put off
until next week
. That delay further condenses the tight time frame lawmakers already faced, and the current two-week session (scheduled to end next week) may be extended into the week of September 29, as Congress struggles to reconcile the Obama Administration request for additional military spending with varying opinions regarding increased intervention in the Middle-Eastern conflict.
Here is a link
to the fairly thin list of Mississippi River Basin-related Capitol Hill happenings currently on tap for next week.
Noteworthy @UpperMiss Twitter Postings for the Week
Water Quality -
"Waters of the United States Rule"
Other Water Quality News
Water Resource Management (Floodplains, Dams, Navigation, Wetlands, Flooding, Supplies, etc.) -
Agriculture -
June-August Precipitation as a Percent of Average
(click to enlarge)
Climate and Weather -
Biodiversity, Wildlife and Invasives -
In the Cities -
City leaders nationwide are preparing for climate change without using the term, avoiding politics and partisanship http://ow.ly/Bknil
Memphis, Tennessee region is poised to make a huge leap forward in developing a regional greenway and trail system http://ow.ly/BkOZv
Orleans Parish Sewerage & Water Board: New Orleans drinking water odor coming from algae growing in the Mississippi River http://ow.ly/BnfCZ
In the States-
Recount vote results on Missouri "right to farm" constitutional amendment expected to be announced next Monday http://ow.ly/BnmKm
Projected shortfall for the next two-year Wisconsin state budget ending in mid-2017 nearly $1.8 billion http://ow.ly/BhsPq
Daily Iowan Editorial: Iowa needs to strengthen environmental standards http://ow.ly/BndjJ
Gulf Coastal Region-
Forestry -
Forest Service Chief defends proposed USFS groundwater directive before skeptical House Agriculture subcommittee ow.ly/Bn82V
Resource Development -
Federal Budget -
House GOP offers stopgap federal funding bill to run government through Dec. 11; also reshapes future budget landscape - article: http://ow.ly/Bk3Yh; Appropriations Committee release and links: http://ow.ly/Bk4dP
House Republican leaders delay vote on a stopgap spending bill until next week http://ow.ly/Bn9W8
Events - Information on all past and future events listed here each week can be viewed in the on-line calendar, located above and to the right (and
here as a stand-alone calendar
)
e-Newsletters, Publications, Journals, Multimedia -
Other news-
Politics and People-
Your Moment of Zen
-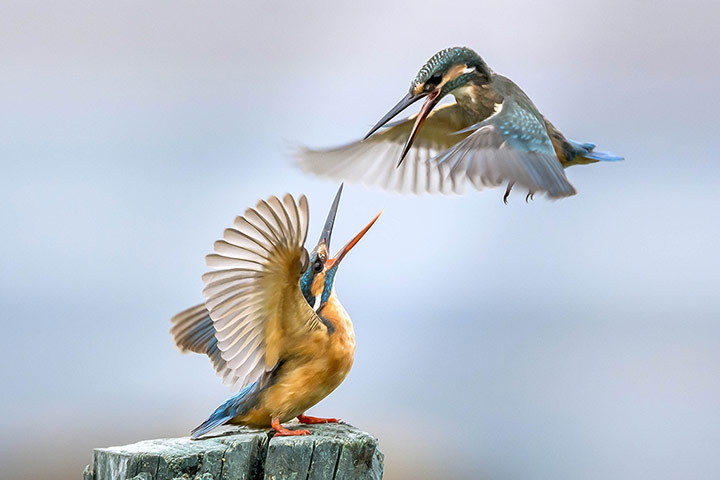 Two common kingfishers fight over a perch (Photo credit: Shams ul haq Qari)