~Virtual Newspaper for an Aquatic World~
Government Funded through December 11; Congress Leaves Town
Congress wrapped up an eight-day work session Thursday, after the
Senate passed
a bill funding the government
and authorizing a narrow slice of President Obama's strategy against Islamic State militants, each for less than three months. The
stop-gap funding bill or "Continuing Resolution"
(
passed by the House
on Wednesday) was one of Congress' last orders of business before adjourning until after the November 4 midterm elections. The bill makes very few changes to existing spending amounts, maintaining funding at an annual level of $1.02 trillion through December 11. Apart from making a few changes such as keeping NOAA's weather satellite programs funded and allowing for continued collection of national park fees, the measure keeps in place all existing policy riders.
Congress is scheduled to return on November 12, when (apart from the ongoing Middle Eastern intervention debate) two issues will largely occupy its time through the remainder of the year. First, members will need to work out the terms of legislation to fund the government beyond December 11. Both the Senate (Sen. Barb Mikulski) and House (Rep. Hal Rogers) Appropriation Committee chairs would like to see an omnibus spending bill incorporating the negotiated elements of the separate appropriations measures already drafted by their respective committees. Second, Congressional committee staff will be working diligently behind the scenes to lay the groundwork for any early 2015 legislative initiatives that take shape after the midterm election dust has settled. Stay tuned.
Abridged News
If you prefer your news in a more abridged format, look no further than here:
What We Learned This Week - "Say 'Ah' . . . . or 'Uh' or 'Um'"
Noteworthy @UpperMiss Twitter Postings for the Week
Water Quality -
Water Resource Management (Floodplains, Dams, Navigation, Wetlands, Flooding, Supplies, etc.) -
Government Accountability Office facilitated panel: Army Corps of Engineers actions during 2012-2013 drought, Missouri River 2011 flood were appropriate http://ow.ly/BwAxf
North Platte Natural Resources District looks to offset North Platte River impacts from groundwater well development http://ow.ly/Byu5g
Iowa City residents, politicians discuss Iowa River,Coralville Reservoir flooding with Army Corps of Engineers http://ow.ly/ByuyD
Agriculture -
Climate and Weather -
Biodiversity, Wildlife and Invasives -
Syngenta asks U.S. EPA to increase allowable levels of neonicotinoid pesticides amid growing bee decline concerns http://ow.ly/BvwuA
In the Cities -
Mississippi River Cities and Towns Initiative mayors meet in New Orleans to discuss climate, commerce, sustainability http://ow.ly/BysKq (media release here: http://ow.ly/BGktH)
Mayors seek to grow new fund to provide seed money for sustainable waterfront development along the Mississippi River http://ow.ly/BGkks
In the States-
Forestry -
DuPont to pay $1.85 M fine to resolve alleged herbicide injures to trees in several states, including Indiana, Illinois, Minnesota, Ohio, Wisconsin http://ow.ly/ByBUG
Resource Development -
Federal Budget -
Events - Information on all past and future events listed here each week can be viewed in the on-line calendar, located above and to the right (
and here as a stand-alone calendar
)
e-Newsletters, Publications, Journals, Multimedia -
Other news-
Nearly 18,000 rubber ducks made their way down North Platte River in annual United Way rubber duck dash fundraiser http://ow.ly/BvAGb
Politics and People-
Your Moment of Zen
-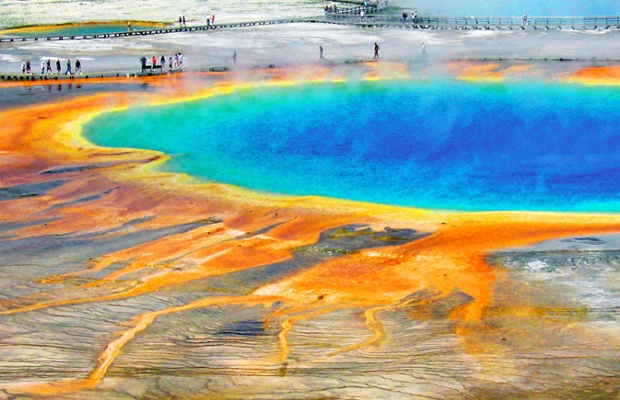 Yellowstone National Park