Calendars and Holidays
Over the next two weeks, the US Senate and House will be having a go at "tag-team" legislating. All of next week the
Senate will be on Memorial Day recess
(returning the week of June 6), while following an off-day on Memorial Day, the
House remains in session
through Friday (the House will be off for a district work week
starting
June 6). This "early edition," pre-holiday e-newsletter is coming out a day sooner than usual, as your FNB ("Friendly Neighborhood Blogger") is taking off this afternoon for a long Memorial Day weekend outside the Beltway and back in cooler Pennsylvania. Here's wishing you all a safe and rest-filled Memorial Day weekend!
House Appropriations Committee to Consider Fiscal Year 2012 Agriculture Spending Bill Next Tuesday
The full House Committee on Appropriations will hold a
mark-up meeting
on the Fiscal Year 2012 Agriculture Appropriations Bill on Tuesday, May 31, at 4:00 PM (Eastern) in Room 2359, Rayburn House Office Building. The meeting will be webcast. Audio and video of the hearing will be available
here
, and an audio-only feed will be available
here
.
During a Tuesday meeting of the Appropriations Agriculture subcommittee, the
Agriculture Appropriations Bill
was marked up and passed on a voice vote to the full Committee for mark-up. The bill is primarily designed to set levels of discretionary spending for the USDA, the Food and Drug Administration and the Commodity Futures Trading Commission (here is a brief summary of the bill
on the Institute's Mississippi River Basin blog
, and a bill overview that has been
posted on the National Sustainable Agriculture Coalition blog site
). A list of House Appropriations Committee members and additional Committee member information can be found here.
Report on Farm Bill Negotiation Opportunities
The Northeast-Midwest Institute and The Horinko Group have completed the first phase of what could potentially evolve into a multiphase effort to develop a sustainable, mutual working relationship among agricultural and conservation stakeholders who have not traditionally collaborated on Farm Bill-related issues. The preliminary scoping phase of the project and its outcomes are described in a May 23 report, which is summarized in more detail (with a link to the full report)
here
.
Notable @UpperMiss Twitter Postings for the Week
:
Current Flooding-
Last word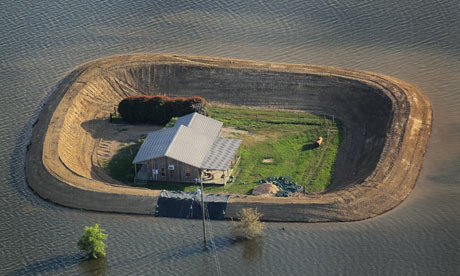 Vicksburg, Mississippi house surrounded by floodwaters