~Most of the Water News - None of the Spin~
Click to enlarge
U.S. Capitol Christmas Tree
This year's Capitol Christmas tree
originated in the Upper Mississippi River Basin
in Central Minnesota. The official lighting of the tree occurred on Tuesday, and on the left is a photo of the tree following the ceremony, posing nicely next to the U.S. Capitol Building dome (currently under repair).
Next Week in Washington
There is only one U.S. House committee hearing and no Senate committee activity currently scheduled for next week that relates to Mississippi River Basin water resources. Lawmakers, by-and-large, look to clear major pieces of legislation ahead of the winter recess scheduled to begin on Friday, December 12, when the 113th Congress will effectively be no more. The main piece of pressing legislative business remaining is passage of a measure to fund the federal government beyond December 11 (when the current spending authorization lapses). Spending bill amendments that impact environmental programs remain a possibility, but no details on those have come to light to date. In addition, there will likely be some other floor activity in each chamber that relates to the River Basin natural resources or to those in the nation as a whole. To see details (updated as needed),
follow this link
.
Noteworthy @UpperMiss Twitter Postings for the Week
Water Quality -
Senate Agriculture Committee Hearing on Voluntary Conservation
to Protect our Land and Waters
Senate Agriculture Committee Hearing on Voluntary Conservation to Protect our Land and Waters web site (testimony and video)

http://ow.ly/FlJn5

Concerns expressed that Obama Administration's proposed Clean Water Act rule could lessen farmer conservation program interest http://ow.ly/FlIxq
Toledo, Ohio mayor calls for federal government to devote full attention to improving U.S. surface water quality http://ow.ly/FlKMu
Sen. Pat Roberts (R-KS) questions USDA Natural Resource Conservation Service Chief about the Lesser Prairie Chicken and WOTUS rule; Roberts' media release and video: http://ow.ly/FlKeS
Other Water Quality News
Water Resource Management (Floodplains, Dams, Navigation, Wetlands, Flooding, Supplies, etc.) -
Agriculture -
Climate and Weather -
This year is on course to be the warmest on record around the world: http://bbc.in/11UDopu

Leading meteorologists are on the verge of declaring the emergence of the El Niño weather phenomenon http://ow.ly/FhQiO
US drought update: water deficits continue to mount in Minnesota, Dakotas; most of southern Plains continued to be dry over past week http://ow.ly/wmTdv
NOAA Climate Prediction Center monthly drought outlook for December http://ow.ly/q3yAx
The ice sheet of the Amundsen Sea in West Antarctica is melting at an alarming rate http://ow.ly/FmXok
Research: Grasslands may fare better, remain more stable under warmer conditions, increased carbon dioxide exposure http://ow.ly/Ffidd
Council on Environmental Quality report: "State, Local and Tribal Leaders Task Force on Climate Preparedness and Resilience: Recommendations" http://ow.ly/FftXC
Biodiversity, Wildlife and Invasives -
In the Cities -
Clinton, Iowa permeable pavers' major purpose to provide storm water runoff water quality

Memphis, Tennessee "Pyramid"

treatment http://ow.ly/FiNgi
Columbia, Missouri and Boone County move forward on green infrastructure plan http://ow.ly/FiORo
Winnebago, Minnesota takes on project to benefit Blue Earth River along with downstream Minnesota and Mississippi rivers http://ow.ly/FiPTp
Bass Pro Shops empire to place store and hunting-fishing center at Memphis Pyramid along Mississippi River http://ow.ly/FlAff
White House recognizes Minneapolis for its recent environmentally friendly initiatives; named one of 16 "Climate Action Champions" http://ow.ly/FlYOJ
In the States-
Franklin Circuit Court Judge: Kentucky environmental regulators can no longer effectively enforce clean-water rules http://ow.ly/Fis03
Advocates hope federal coal ash rules spur oversight in Missouri of unlined pond waste disposal practices http://ow.ly/FiulB
Click to enlarge
Gulf Coastal Region-
Federal judge returns Louisiana parish lawsuit against 19 oil and gas companies for environmental (wetland) damages to state court http://ow.ly/Fjp5e (related figure, to right)
Major deltas 'could be drowned' by sea level rise; Some of lowest-lying are particularly vulnerable, including the Mississippi http://ow.ly/FlXqH
Resource Development -
Federal Budget -
Events -
Information on all past and future events listed here each week can be viewed in the on-line calendar, located above and to the right (and here as a stand-alone calendar)
e-Newsletters, Publications, Journals, Multimedia -
Other news-
Politics and People-
House districts where single party rule applies (where representatives, both senators and

Click to enlarge

governors will all be from the same party) - in the U.S. mid-section, Minnesota is the only blue region http://ow.ly/FpMs8
Congressional Management Foundation releases study based on about 450 congressional staff interviews explaining how to best manage Congressional meetings http://ow.ly/FlTbY
Lame-duck dilemma: More than 130 Obama nominees still await Senate action, including five nominees to Environmental Protection Agency posts http://ow.ly/FhO51
How productive are lame duck Congresses? Maybe more than the lame name implies http://ow.ly/FlRf9
There's a runoff election in Louisiana's Senate race Saturday, but Sen. Landrieu (D) is presumed politically dead http://ow.ly/Fm5Hd
For those who missed it, here is the U.S. House calendar for 2015 (no Senate version yet): http://ow.ly/Fdimf
Come January, nearly half of Congress (48.8 percent) will have been in office for four years or less - elected in 2010 or later http://ow.ly/FiCcc
Your Moment of Zen
-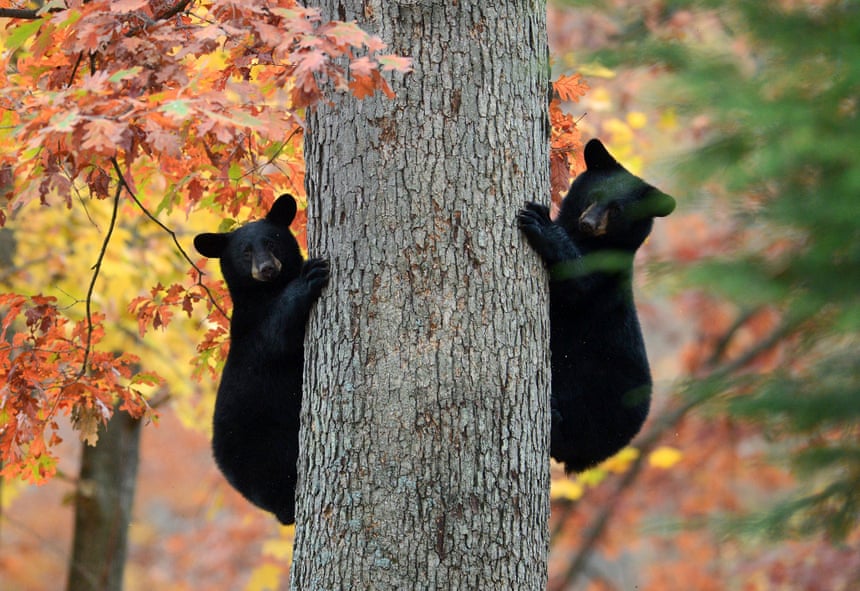 Black bear cubs in Southwestern Pennsylvania (Photo source: The Guardian)