~Virtual Newspaper for an Aquatic World~
Water Resources Reform and Development Act Agreement Details Released; Votes on Measure Next Week
As widely reported last week, a bicameral, bipartisan deal has been reached on a long-delayed national water resources bill (known as the Water Resources Reform and Development Act (WRRDA)). A House-Senate conference committee has been negotiating to resolve the differences between a House WRRDA bill passed by that chamber in October 2013, and a companion Water Resources Development Act (S. 601) bill passed by the Senate last May. The WRRDA conference report was released by the conference committee Thursday afternoon after all but one of the members of the committee agree to the compromise language. Here is a
section-by-section summary
of the Water Resources Reform and Development Act Conference Report. Highlights of the agreed-upon compromise can be
found here
, and the Conference Report, in full, can be
seen here
. We've prepared a summary of those bill provisions particularly relevant to the Mississippi River Basin, and they can been seen
in this article
. The full House is planning to vote on the agreement next Tuesday, with a Senate floor vote anticipated very shortly thereafter.
Also Next Week
The House will be back from a one-week recess next week, and
here you can find an overview
of the House and Senate activities scheduled for the week that are relevant to the River Basin's water resources. They include some appropriation bill activity of note, as well as hearings related to activities on federal land, such as forest land and wildlife refuges.
Noteworthy @UpperMiss Twitter Postings for the Week
Water Quality -
Water Resource Management (Floodplains, Dams, Navigation, Wetlands, Flooding, Supplies, etc.) -
Agriculture -
Climate and Weather -
LEAD STORY: Western Antarctic ice sheet collapse has already irreversibly begun, with "major consequences for sea level rise worldwide" http://ow.ly/wMFXZ
LEAD STORY: U.S. drought will persist across southern half of Kansas southward; ease across eastern Nebraska and Iowa by August http://ow.ly/wUVy3
El Niño conditions remarkably similar to those in 1997: one of the most potent El Niño events of the 20th century http://ow.ly/wQs9f

May 13 Drought Monitor Map
(click to enlarge)

Policy makers in Minnesota and other states remain divided over how to respond to National Climate Assessment http://ow.ly/wKdUq
Lloyd's of London, the world's biggest insurance market, urges insurers to account for climate change in their models http://ow.ly/wJUdZ
All materials from the Capitol Hill May 8 briefing, "The National Climate Assessment: Measuring Domestic Climate Impacts" now online http://ow.ly/wNjPW
US drought update: Improvements continue across parts of Midwest, Nebraska and South Dakota; mixed bag elsewhere in the Plains http://ow.ly/wmTdv
Illinois Infrastructure: Getting Our Water Systems Up to Snuff Amidst the Climate Crush http://ow.ly/wSbl5
Biodiversity, Wildlife and Invasives -
In the Cities -
In the States-
West Virginia regulators plan to redesignate Kanawha River through Charleston as potential public drinking-water source http://ow.ly/wFg5I and http://ow.ly/wK9P3
Bills restricting oil and gas 'legacy lawsuits' sent to Louisiana House floor http://ow.ly/wN3pP
Concerned for bees, Minnesota lawmakers call for aggressive pesticide review by state Department of Agriculture http://ow.ly/wN2NM
Louisiana Coastal Region-
St. Tammany Parish residents urge Army Corps, Louisiana not to consider oil driller's wetlands-mitigation permit application ow.ly/wSrBT
Resource Development -
Reported spills from oil and gas well sites in North Dakota jumped significantly in 2013 map: http://ow.ly/wN0nv story: http://ow.ly/wN0qH
Industry experts: successful gas well fracking at edge of Tuscaloosa Marine Shale formation likely would lead to more Louisiana rigs http://ow.ly/wKeUC
Events - Information on all past and future events listed here can be viewed in the on-line calendar above (and
here as a stand-alone calendar
)
e-Newsletters, Publications, Journals, Multimedia -
Other news-
Economic Research Service (USDA): Farming-dependent counties, concentrated in the Great Plains and Corn Belt, lost population between 2010-13 http://ow.ly/wSdYQ
Illegal National Park Service projects harmed northeastern Iowa Mississippi River valley Native American burial site (Effigy Mounds National Monument) http://ow.ly/wKRG9
Snarled Great Plains rail service effects ripple through agricultural economy, as oil transport takes up track space http://ow.ly/wSd6n
Politics and People-
Last Word
-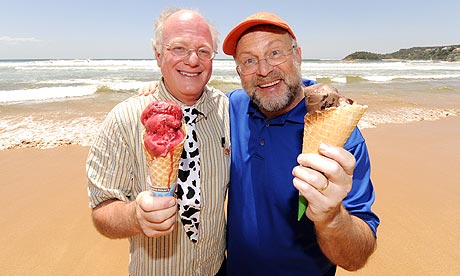 Ben Cohen (left) and Jerry Greenfield
"
Remember these words from two old ice cream guys: if it's melted, it's over.
" - Ben Cohen and Jerry Greenfield, co-founders of Ben and Jerry's Ice Cream