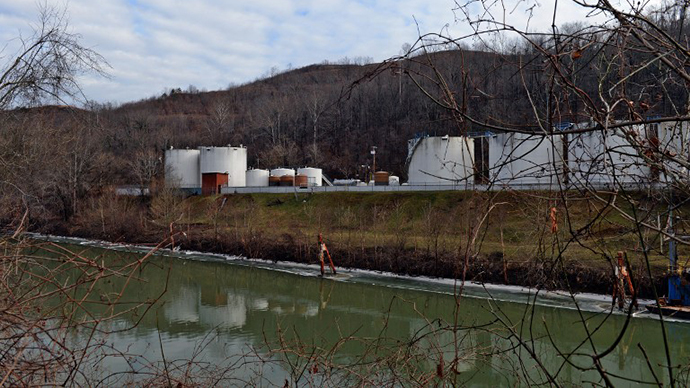 Freedom Industries, Inc. on the banks of the Elk River
in Charleston, West Virginia
On January 9, 2014, a 46,000-gallon steel tank in a tank farm owned by Freedom Industries, Inc. in Charleston, West Virginia experienced a leak of up to 10,000 gallons of 4-Methylcyclohexane methanol (MCHM) with an estimated 5.6% polyglycol ethers (PPH). A significant amount of the chemical was released into the Elk River, a tributary to the Kanawha River. The Freedom Industries bulk storage distribution facility is located alongside the Elk River and approximately one and a half miles upstream from the potable water supply intake of the local water utility, West Virginia American Water (see "

Summary of Subject Matter

" prepared for the

February 10, 2014 Field Hearing

on "The Charleston, West Virginia Chemical Spill," U.S. House Committee on Transportation and Infrastructure; Charleston, West Virginia). Ultimately, the spill left 300,000 people without water for varying periods of time, while the chemical contamination worked its way downstream,

eventually flowing down and being diluted by the Ohio River.
The post-spill agency coordination and response, by most accounts, went relatively smoothly. The working relationships among the various responding local, state and federal agencies (in particular, between the West Virginia Department of Environmental Protection and the U.S. Environmental Protection Agency) was reported to have been one of "mutual respect and cooperation." Decisions were made cooperatively, allowing the state and federal governments to speak with one voice to the public, as well as the responsible party (Department of Environmental Protection
Testimony
at February 10, House Transportation and Infrastructure Committee Field Hearing). So, rather than post-incident activities and policy, the focus of official investigations into the incident has been on pre-spill conditions and related policy.
U.S. Chemical Safety Board Involvement in the River Valley
The
U.S. Chemical Safety Board (CSB)
is an independent federal agency charged with investigating industrial chemical accidents. Headquartered in Washington, DC, the agency's board members are appointed by the President and confirmed by the Senate.
U.S. House Transportation and Infrastructure
Committee February 10 Field Hearing
CSB's preliminary research into the West Virginia incident indicates that it was an incomplete pre-spill regulatory framework that ultimately led to the Freedom Industries, January 9 release; that there was a "gap in the regulatory framework" that failed to adequately cover not only that particular Freedom Industries' above ground storage tank, but also many more like it around the country. Specifically, while EPA's Spill Prevention Control and Counter Measure (SPCC) Program rule outlines requirements for prevention and preparedness of oil discharges, such regulations do not apply to tanks containing "non hazardous substances" like those found at Freedom Industries. Under existing state and federal laws, those non-hazardous substance-containing tanks, including the tank involved in the January 9 release, were not regulated by the state or federal government. While there are laws prohibiting polluting to waterways with a spill, there are not really any clear, mandatory standards for how one should site, design, maintain, and inspect non petroleum tanks at a storage facility. (
CSB Testimony
at February 10, House Transportation and Infrastructure Committee Field Hearing).
It is noteworthy that CSB has had a history of investigating accidents in West Virginia's Kanawha Valley. In 2008 a waste tank containing the toxic pesticide methomyl violently exploded at the

Bayer CropScience chemical plant in Institute, West Virginia

. In 2010,

three incidents occurred within a thirty-three hour period at the DuPont Belle, West Virginia facility

. Following CSB's investigation into the Bayer and DuPont incidents, the CSB recommended that

Kanawha C

ounty, working with the state, establish a hazardous chemical release prevention program to enhance safety and optimize emergency response. CSB cited as an example of such a program, a successful one developed in Contra Costa County, California, which has an industrial chemical base similar in density to that in

Kanawha C

ounty.

Contra Costa Health Services' Hazardous Materials program is designed to respond to emergencies and monitor hazardous materials within Contra Costa County, California (See here for more information on that program

).

Kanawh

a County ne

ver developed the recommended prevention program.
Related Federal Policy Initiatives
Five months prior to the West Virginia spill, in August 2013, the President issued
Executive Order 13650
("Improving Chemical Facility Safety and Security"), the purpose of which is to put into place "additional measures can be taken by executive departments and agencies (agencies) with regulatory authority to further improve chemical facility safety and security in coordination with owners and operators." The Executive Order, in part, established a
Chemical Facility Safety and Security Working Group
to undertake a comprehensive review of Federal chemical safety and security programs and develop recommendations for improving these programs (The Working Group is chaired by the Administrator of the Environmental Protection Agency). The Working Group agencies have been holding listening sessions and have formed workgroups to implement the Executive Order directives, which include:
Improving operational coordination with state, local, and tribal partners

Enhancing Federal coordination regarding chemical facility safety and security

Enhancing information collection by and sharing across agencies

Modernizing key policies, regulations, and standards

Identifying and sharing successes to date and best practices
Chemical Safety and Drinking Water Protection Act
In the wake of the West Virginia incident, Senators Joe Manchin (D-WV), John D. Rockefeller (D-WV) and Barbara Boxer (D-CA) introduced legislation aimed at safeguarding water supplies from chemical releases such as the one that occurred in Charleston, West Virginia. The bill (
S. 1961
- the "Chemical Safety and Drinking Water Protection Act of 2014") would amend the Safe Drinking Water Act to require state regulation of above-ground storage facilities near drinking water supplies and would set minimum safety standards, as well as increase information sharing on substances held at such facilities. Related to the spill and to the introduction of S. 1961, the U.S. Senate Environment and Public Works Committee held a
March 6 hearing
focused on efforts to improve the safety and security of chemical facilities across the country. S. 1961 is due to be marked up in committee soon, although Republicans have reportedly indicated that they would like to see some changes to the language before it comes up for a vote.
The CSB recommends that any effort at legislative reform, such as S. 1961, ideally incorporate the basic framework of accident prevention, known as the hierarchy of controls, which is an effectiveness ranking of techniques used to control hazards and the risk they represent. The further up the hierarchy, the more effective the risk reduction achieved. The top-most hierarchy level involves what is called inherent safety, an industry-developed concept that focuses on safety in design (i.e., tank siting). Down the hierarchy are engineering elements that, while they do not eliminate the risk of an accident, make it far less likely (i.e., double-walled tanks, leak detection systems, secondary containment). Near the bottom of the hierarchy are measures such as inspections for potential failure mechanisms (i.e., corrosion, etc.). These are necessary to any incident prevention system, but are among the least effective of safeguards, and cannot be counted on alone to prevent an incident. (
CSB Testimony
at February 10, House Transportation and Infrastructure Committee Field Hearing).