~Virtual Newspaper for an Aquatic World~
January 2014 Freedom Industries, Inc. West Virginia Tank Spill and Its Intersection with Federal Policy
On January 9, 2014, a 46,000-gallon steel tank in a tank farm owned by Freedom Industries, Inc. in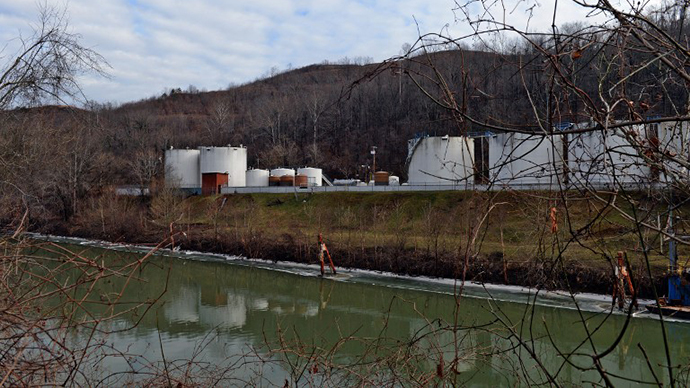 Charleston, West Virginia experienced a leak of up to 10,000 gallons of 4-Methylcyclohexane methanol, containing an estimated 5.6% polyglycol ethers. A significant amount of the chemical was released into the Elk River, approximately one and a half miles upstream from the potable water supply intake of the local water utility. Ultimately, the spill left 300,000 people without water for varying periods of time, while the chemical contamination worked its way downstream, eventually flowing down and being diluted by the Ohio River. Now that the emergency has been officially declared over, we take a step back from the incident to explore in
this article
where the incident intersects with existing and emerging Federal policy.
Noteworthy @UpperMiss Twitter Postings for the Week
Water Quality -
Water Resource Management (Floodplains, Dams, Navigation, Wetlands, Flooding, Supplies, etc.) -
Agriculture -
Projected Outlays under the 2014 Farm Bill
(click to enlarge)
March 11 Drought Monitor Map
(click to enlarge)
Climate and Weather -
National drought summary: slight dryness expansion in Iowa, southern plains dryness impacts increase http://ow.ly/q3w3u
Biodiversity, Wildlife and Invasives -
In the Cities -
Robbinsdale, MN working to clean up Crystal Lake by reducing phosphorus loading into the lake http://ow.ly/uvL4T
Repairs and improvements on Council Bluffs, Iowa's river and creek levees could cost the city $50 million http://ow.ly/uw6wZ
In the States-
Control of St. Croix River development spurs Minnesota Legislature debate http://ow.ly/uxFOa
Minnesota's Pollution Control Agency postpones decision on surface water sulfate pollution, saying it needs more time http://ow.ly/uA7rV
Arkansas Natural Resources Commission hosting meetings to hear comments, concerns, and suggestions on new State Water Plan http://ow.ly/uArW3
Louisiana Coastal Region-
Lawsuit against oil and gas companies for damage to the coast has become a symbol of Louisiana's environmental future http://ow.ly/uvK1w
Louisiana state, local politicians split on oil levee board wetland and land loss lawsuit against big oil companies http://ow.ly/uqmdt
Resource Development -
Federal Budget -
Obama 2015 budget proposal includes $176 million for western Pennsylvania waterways, reservoirs and dams http://ow.ly/uw6Ma
House Ag Committee adopts fiscal year 2015 budget recommendations for agencies and programs under its jurisdiction http://ow.ly/uAbtM
Events - Information on all past and future events listed here can be viewed in the on-line calendar (
here as a stand-alone calendar
)
e-Newsletters, Publications, Journals, Multimedia -
Other news-
Commercial rafting on the Arkansas River in Colorado realized an economic impact of more than $55 million in 2013 http://ow.ly/ummSf
U.S. Geological Survey releases a "harmonized" set of maps of watersheds that cross the U.S.-Canada border http://ow.ly/upVA1

Sen. Al Franken's

annual hotdish
off, on

Wednesday

Supreme Court "rails-to-trails" ruling against U.S. Forest Service is a broad victory for property rights activists http://ow.ly/ur0f6
Politics and People-
Rep. Tim Walz (D-MN) Cooks Up Second Consecutive Minnesota Hotdish Win http://ow.ly/uA7UK
Businesswoman and scientist Sharon Sund will take another shot at running against GOP Rep. Erik Paulsen (MN 3rd U.S. House district) http://ow.ly/uxCPX
Last Word
-
"
Climate change is real. It's here.
" Senate Majority Leader Harry Reid, Monday evening on the Senate floor, kicking off a nearly 15-hour climate-change "talkathon" by about 30 Senate Democrats. Reid added that it was time to stop acting as if those who ignore climate change "have a valid point of view."