~Virtual Newspaper for an Aquatic World~
Minnesota DNR Contractor Catches Two Asian Carp Upstream of Previous Sightings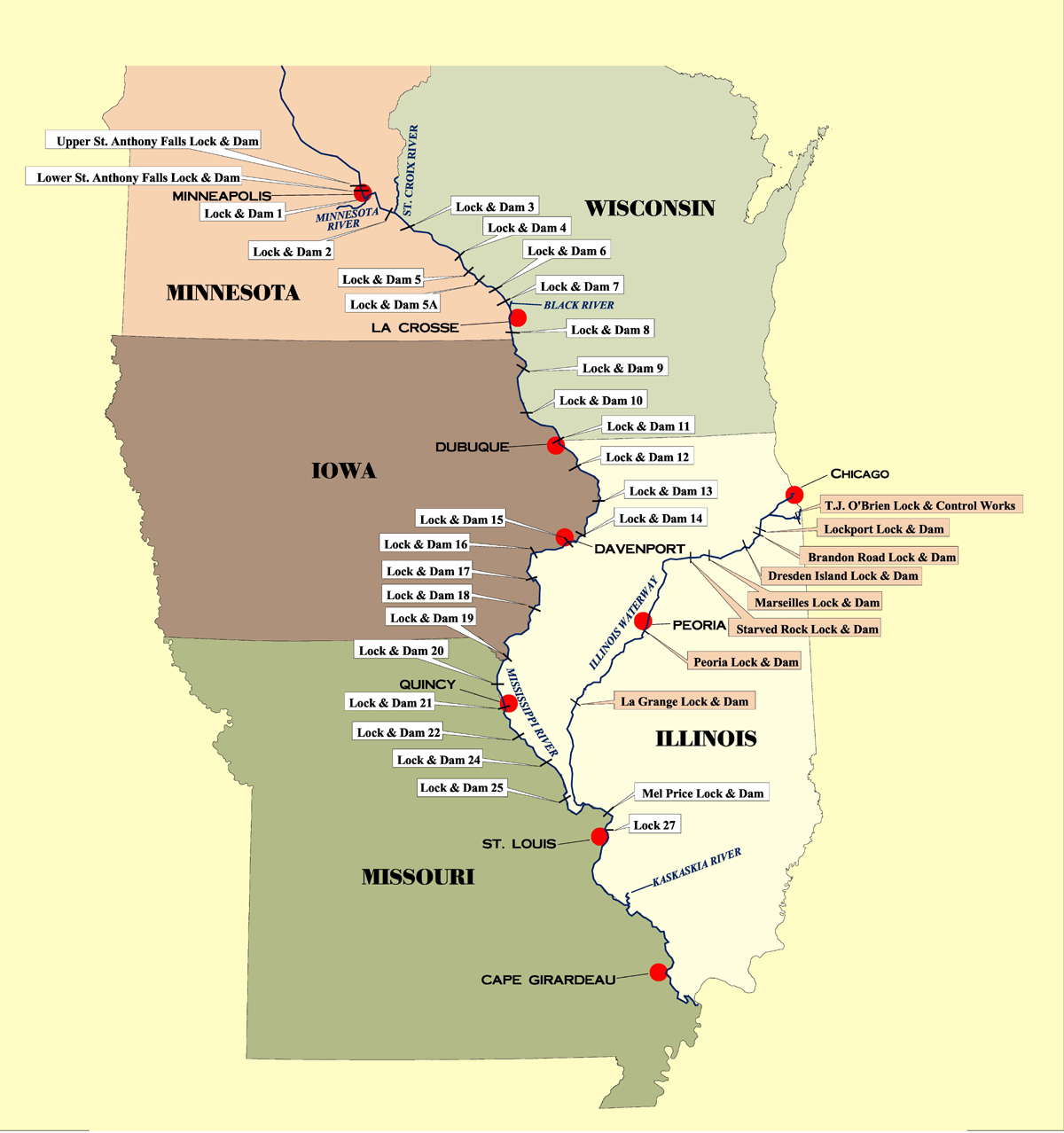 Mississippi River Lock and Dam System
(click to enlarge)
Minnesota Department of Natural Resources (MN DNR) contractors netted two adult non-native Asian carp, one a bighead carp and the other a silver carp, in Pool 2 of the Mississippi River in the Cottage Grove, Minnesota area on July 17. Because of the ability of Asian carp and many other non-native fish to compete with and displace native species, invasive fish are a significant threat to native biodiversity and the economy in the Mississippi River watershed. Pool 2 is formed upstream of the Army Corps of Engineers Lock and Dam 2 at Mississippi River mile 815.2 near Hastings, Minnesota. For more details on the sighting, see this
MN DNR press release
and our
related overview
.
This Week, Next Week and Beyond
The U.S. House is scheduled to be in session just 16 more days until the November mid-term election: four more this month, no days in August, ten days in September and two days in October.
This link
leads to a listing of the U.S. House and Senate activities currently scheduled for next week's four legislative days that relate to Mississippi River Basin water resources. That activity is unlikely to include any meaningful action on spending bills. Some time during September, the
House will likely vote on a stop-gap measure
to prevent a federal government shutdown on October 1, deferring most of the big spending decisions until after the midterms.
Here is a link
to the abridged, one-paragraph version of the past week.
Noteworthy @UpperMiss Twitter Postings for the Week
Water Quality -
Water Resource Management (Floodplains, Dams, Navigation, Wetlands, Flooding, Supplies, etc.) -
Falling corn prices are raising fears
that many U.S. farmers will
suffer their first losses in years
Agriculture -
Climate and Weather -
July 22 US drought update: Widespread precipitation in River Basin, plus unseasonably cool air, lead to general drought relief http://ow.ly/wmTdv
NOAA: On heels of May's record, June's average global temperature sets a new record at 61.2F, 1.3F higher than June's 20th Century average ow.ly/zpw2S
NY Times: Mapping the Spread of Drought Across the U.S.; Maps and charts show changing extent of the drought http://ow.ly/zzwKL
Biodiversity, Wildlife and Invasives -
The longear sunfish, Lepomis megalotis, is a freshwater fish
in the sunfish family Centrarchidae
In the Cities -
In the States-
Nebraska Natural Resources Commission lays groundwork for projects intended to preserve state's long-term water supply http://ow.ly/zoBZW
Minnesota Pollution Control Agency survey says: Minnesotans want clean water for fish http://ow.ly/zs2lU
Gulf Coastal Region-
Resource Development -
Obama administration plans to raise amount of ethanol, other biofuels that must be blended into U.S. fuel supply http://ow.ly/zzAOg (also see: http://ow.ly/zzAYu)
How oil and gas firms gained influence and transformed North Dakota http://ow.ly/zouod
Wisconsin frac sand facility operates two high-capacity wells without permit, faces $52,500 in fines http://ow.ly/zuyno
Federal Budget -
House Speaker Boehner (R-Ohio) expects House will consider a stopgap funding bill in September to avoid a government shutdown http://ow.ly/zxUM8
$34 billion spending bill for energy and water programs for fiscal year 2015 released by Senate appropriators http://ow.ly/zzyzo
Events - Information on all past and future events listed here can be viewed in the on-line calendar (
here as a stand-alone calendar
)
2014 National Forum on Contaminants in Fish; September 22-24, Alexandria, Virginia http://ow.ly/zoeqb
Public meetings will be held by the Mississippi River Commission in August at various Mississippi River locations http://ow.ly/zzv74
Save the date: 18th International Soil Conservation Organization Conference, El Paso, Texas; May 31-June 5, 2015 http://ow.ly/zv8MQ
e-Newsletters, Publications, Journals, Multimedia -
Other news-
New rules require additional IDs to enter federal facilities for persons with a driver's license issued by 12 states, including Kentucky, Louisiana, Minnesota, Montana and Oklahoma in the Mississippi River Basin. http://ow.ly/zx1Q2
Department of Interior designates Mississippi Delta as a National Heritage Area http://ow.ly/zoCxK
Louisiana and Iowa led all U.S. states in the value of industrial construction projects during 2013 http://ow.ly/zuCJO
Politics and People-
Your Moment of Zen
-
It's mating season for the millions of mayflies emerging from the Mississippi River near LaCrosse, Wisconsin.
Source: NWS