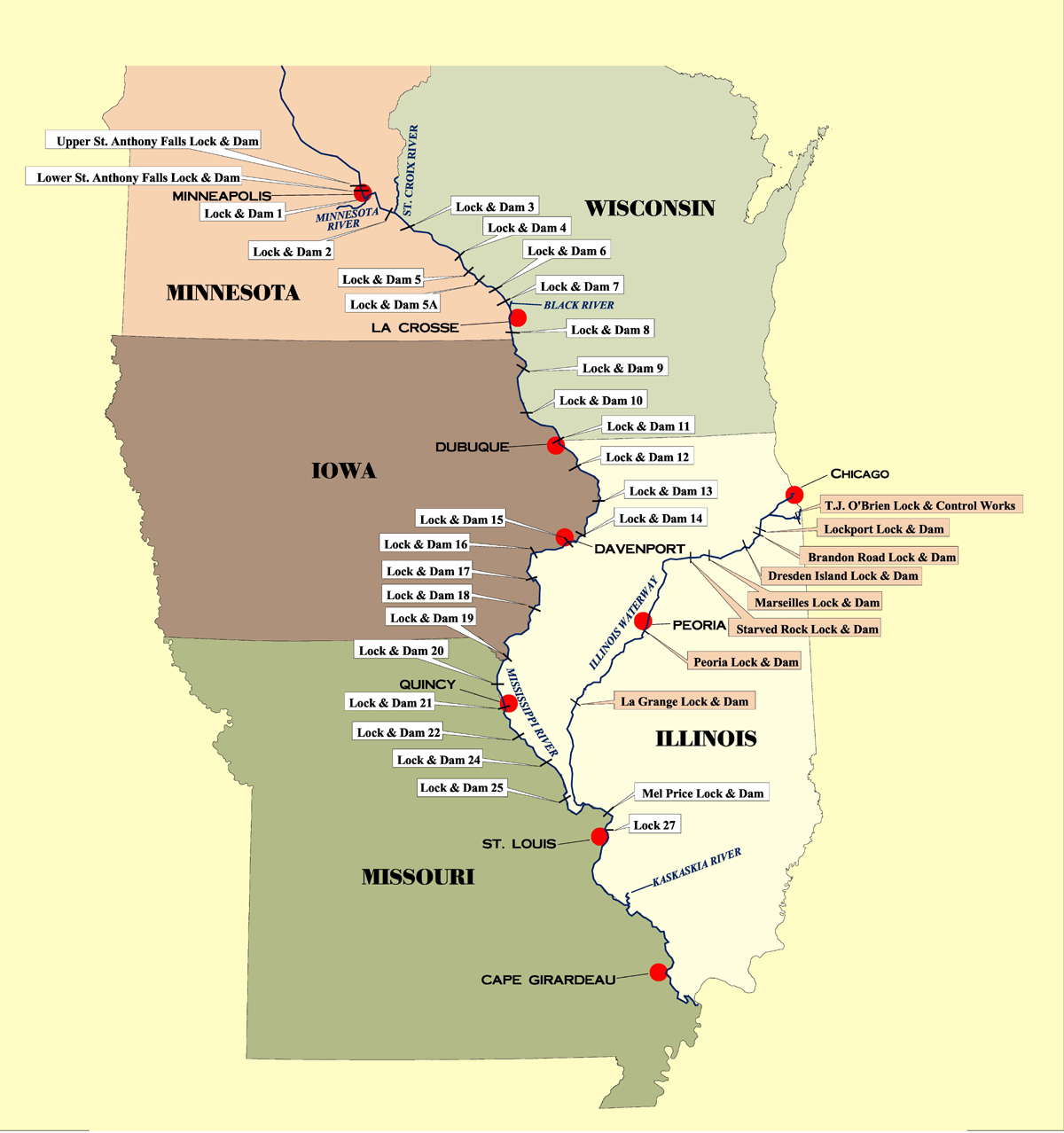 Mississippi River Lock and Dam System
(click to enlarge)
The Minnesota Department of Natural Resources (MN DNR)
has announced
that its contractors netted two adult invasive (or non-native) Asian carp in Pool 2 of the Mississippi River in the Cottage Grove, Minnesota area on July 17. One of the carp was a Bighead carp weighing about 40 pounds. The second was a Silver carp that weighed about 20 pounds. Because of the ability of Asian carp and many other non-native fish to compete with and displace native species, invasive fish are a significant threat to native biodiversity and the economy in the Mississippi River watershed. The River's Pool 2 is formed upstream of the Army Corps of Engineers Lock and Dam 2 at Mississippi River mile 815.2 near Hastings, Minnesota (see map to the right). The pool extends upstream to the Ford Dam, and includes the backwater lakes of Baldwin Lake, River Lake, Spring Lake, Mooers Lake and Grey Cloud Slough.
Prior to last week's catch, Bighead carp had not been detected above the mouth of the St. Croix River near Prescott, Wisconsin; and Silver carp had not been detected above Pool 5A near Winona, Wisconsin. Pool 5A is formed by Lock and Dam 5A, located near Fountain City, Wisconsin and Goodview, Minnesota around Mississippi River mile 728.5.

Large numbers of several species of non-native, Asian carp have been progressively making their way upstream in the Mississippi River Basin for decades, since their release in the 1970s into the Lower Mississippi River from fish farming operations. Since then, Bighead, Silver and Grass carp (and less extensively Black carp) have been captured throughout much of the Mississippi River watershed from Louisiana to South Dakota, Minnesota and Ohio. Populations of both species are well-established in the Mississippi River and its tributaries downstream of Pool 16, formed by Lock and Dam 16, near Muscatine, Iowa (around river mile 457.2).

The MN DNR plans to continue its Asian carp sampling effort this week in an attempt to determine if additional and smaller carp are in the upper reaches of Pool 2.