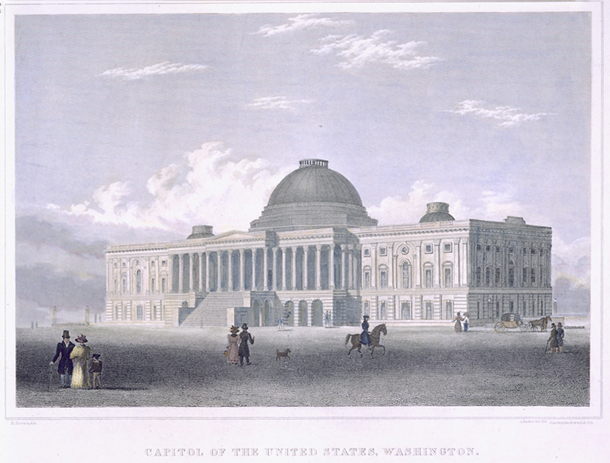 Capitol of the United States, Washington
by Joseph Andrews.
Steel engraving, hand-colored, 1834 ca.
The 114th Congress is set to convene today (Tuesday), when the formal presentation of certificates of election and the swearing-in of elected Members will occur. The Senate swearing-in will begin at 1 p.m. and the House will follow shortly thereafter. As for the remainder of the year, here are links to the 2014 U.S.
House
and
Senate
schedules.
As yet, little in the way of formal committee activity has been scheduled for the remainder of the week. Below is the only House or Senate committee action currently scheduled that relate to Mississippi River Basin water resources. Links are provided to the relevant committee web pages and legislation. The listed hearing and meeting are scheduled to be webcast live (follow the appropriate link). Should additional committee activities be scheduled,
this page will be updated as warranted.
Wednesday
Thursday
Senate Energy and Natural Resources Committee business meeting to consider Keystone XL pipeline legislation (the bill to be considered by the committee is identical to the bill reported favorably by the committee on June 18, 2014); 10:00 AM, room 366 of the Dirksen Senate Office Building.
Friday
House Energy and Commerce Committee Full Committee Organizational Meeting, including establishing the Committee plan for agency oversight during 2015; 9:00 AM, room 2123 Rayburn House Office Building POSTPONED until Tuesday, January 13, 1:00 PM