~Most of the Water News - None of the Spin~
USDA Regional Conservation Partnership Program Conservation Projects Include Significant Mississippi River Basin Representation
On Wednesday, the Department of Agriculture (USDA)
announced
the awarding of $372.5 million for 115 conservation projects to be implemented across the nation under USDA's
Regional Conservation Partnership Program
(RCPP), a program newly authorized by the
2014 Farm Bill
. At least one project was selected in each of the 50 states, including numerous projects within the ten main-stem Mississippi River states. Twenty-four of the selected RCPP projects are focused within eight "
Critical Conservation Areas
" (CCAs) named in 2014 by NRCS, with five of those 24 designated as Mississippi River Basin CCA projects. For additional background and more watershed-specific details, see
our RCPP announcement summary
.
Next Week in Congress and Elsewhere
Monday is a Federal holiday, and the U.S. House and Senate will reconvene on Tuesday (to hear the President's State of the Union address), with potential floor votes happening later in the week on the Keystone XL pipeline and Homeland Security (including FEMA) funding on the Senate side, and on a "
"Natural Gas Pipeline Permitting Reform Act"
in the House. Many Congressional committees are still in the process of organizing, which involves formalizing membership, appointing subcommittee members, chairs and ranking members, and outlining committee oversight activities for the upcoming session. Most of the committee action outlined in our
weekly preview of watershed-related Hill activities
are of that nature.
Also next week, look for the release of USGS National Water-Quality Assessment Program findings from its ongoing evaluation of water quality in the principal aquifers of the United States, including several notable findings for aquifers supplying irrigation and public drinking water within the Mississippi River Basin.
Noteworthy @UpperMiss Twitter Postings for the Week
Water Quality -
Water Resource Management (Floodplains, Dams, Navigation, Wetlands, Flooding, Supplies, etc.) -
Click to enlarge
Agriculture -
DTN-Progressive Farmer: "USDA is changing the way it funds conservation"

http://ow.ly/HmADh (Regional Conservation Partnership Program)
Emotions run high in Indiana industrial hog farm siting fight http://ow.ly/H3sF7
Proposed hog confinement project creates controversy in Dickinson County, Iowa, on the Iowa/Minnesota border http://ow.ly/HqJMt
Underground and on rooftops, farms set roots in big cities http://ow.ly/H3pTF
USDA makes over $18 million available through the Beginning Farmer and Rancher Development Program for training and development http://ow.ly/HeUK2
American Farm Bureau: Excessive federal government regulation threatens the viability of farming and ranching http://ow.ly/HeVJp
American Farm Bureau Federation 2015 strategic plan includes opposing Clean Water Act jurisdiction expansion; advancing legislation to reform Endangered Species Act http://ow.ly/HqteN
Fully and partially autonomous farming systems are close to becoming a reality http://ow.ly/HqqYo
Latest farmland value survey of high-quality ground: prices level off and even decline in many geographies http://ow.ly/HqrAD
Climate and Weather -
2012 drought
Biodiversity, Wildlife and Invasives -
In the Cities -
Six ways city landscapes can be more flood resilient - in pictures http://ow.ly/H3SNg
Mississippi River Cities and Towns Initiative mayors plan for March 17-19 meetings in Washington, DC http://ow.ly/H3xBc
In the States-
Missouri state Senate bill would require DEQ to submit Clean Air or Clean Water Act rule

implementation plan for Legislature and governor review http://ow.ly/Hf22R (more) Missouri Rep. Mike Moon (R) plans to introduce a more sweeping bill http://ow.ly/Hf2F4 barring state agency rule implementation without Legislature's approval
Proposed Missouri tax credit legislation aimed at enlisting beginning farmers http://ow.ly/HiHtl
Report: West Virginia had inadequate regulations to prevent, and sufficient training and planning to respond to Elk River spill http://ow.ly/HamLm
Increased USEPA scrutiny led to better West Virginia Department of Environmental Protection water pollution permit application reviews http://ow.ly/Hf9FE
West Virginia groups oppose move to strip state streams of their designation as potential drinking water sources http://ow.ly/HaoZb
Indiana Senate bill would block local governments from placing restrictions on large livestock facilities in most rural areas http://ow.ly/HappN
Stakeholders to gather for fifth anniversary Minnesota Clean Water, Land and Legacy Amendment celebration and forum http://ow.ly/HbZf7
Gulf Coastal Region-
Resource Development -
Federal Budget -
National Sustainable Agriculture Coalition: What to expect in 2015 from Congress - budget and appropriations http://ow.ly/HaBUu
Events -
Information on all past and future events listed here each week can be viewed in the on-line calendar, located above and to the right (and here as a stand-alone calendar)
e-Newsletters, Publications, Journals, Multimedia -
Other news-
Politics and People-
Your Moment of Zen -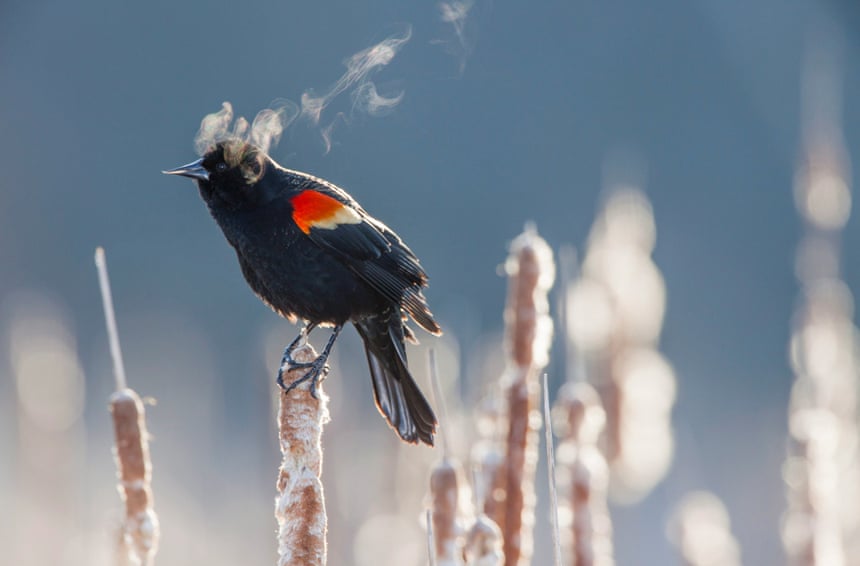 Photograph: Ian Plant/Solent News